Speech and Language and Communication Development
Speech, language and communication skills are vital for all children.
Without these skills they will not reach their full potential.
We at Little Cubs Hythe/Palmarsh know that it is crucial to support children, and identify when they might be having difficulty.
1 in 10 children have speech, language and communication needs, so we ensure that all team members understand how to better support children with these needs.
Makaton Sign of the Week

We learn, practitioners and children, from the Core Vocabulary a Makaton sign a week, which is the starting point for everyone learning Makaton.

This sign is also posted on our social media so that parents/carers can learn and use the sign with their children.
Double-click the video to edit it and enter a short description of the video here.
Double-click the video to edit it and enter a short description of the video here.
Double-click the video to edit it and enter a short description of the video here.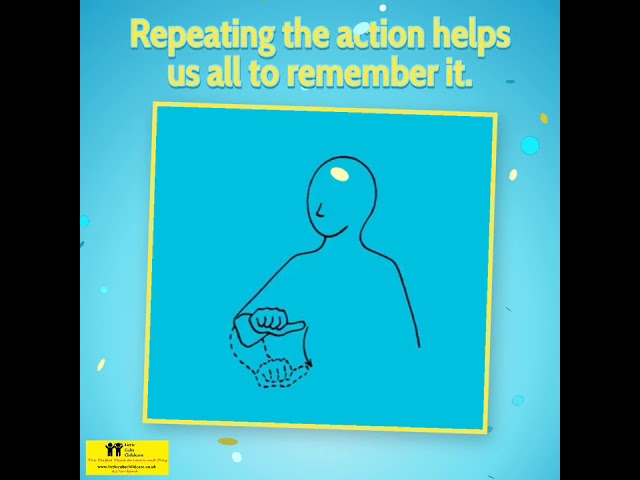 Double-click the video to edit it and enter a short description of the video here.
Makaton Signing in the Setting
We use Makaton signing in the setting as a matter of good practice and have always found this a very useful tool to help children express themselves and to be able to communicate their needs.
We Makaton sign the rules of the setting everyday too in registration. Some of the key words used repetitively helps communication skills.
Start to read the rules to your child and see if they sign or say the rules along with you! 😄
It goes like this:
We say good morning to everyone and they say good morning back. And then -




How many rules have we got? We've got 5!




Rule number 1 - no running around in nursery.




Rule number 2 - keep our hands and our feet to ourselves




Rule number 3 - listen to what your teachers are telling you




Rule number 4- remember to say please and thank you




Rule number 5 - always share with your friends




WooooHoooWooooHooo!!!!!




When the alarm sounds you STOP what you are doing and put your toys down.




You listen to what your teachers are telling you.




You line up at the door like a trainline Choo Choo!




Walk quietly to the yellow wall/pathway.




Stand still and listen for your name.



Video of the practitioners Makaton signing these rules to follow.
At Little Cubs, Joy Summer is a trained Language for Learning specialist and helps to support the children in the setting who require additional help with their language acquisition. Joy also support the child's key person in providing specific activities that encourage them to communicate effectively and works in partnership with parents/carers and SALT (Speech and Language Therapists) to provide a better start for children with communication needs.
Language for Learning training are all led by a speech & language therapist and a specialist teacher providing a dual perspective and specialist knowledge. They have been written for all those working in mainstream schools, including speech & language therapists and other outside agencies. All courses support theory into practice through reflective tasks and aim to develop use of strategies at a universal and a targeted level. All courses are mapped on to the Speech, Language & Communication Framework (SLCF) and meet a range of competencies at both a universal and enhanced level. We also have access to materials to support strategy suggestions.
Click this text to start editing. This block is a basic combination of a title and a paragraph. Use it to welcome visitors to your website, or explain a product or service without using an image. Try keeping the paragraph short and breaking off the text-only areas of your page to keep your website interesting to visitors.
The Communication Trust is a coalition of over 50 not-for-profit organisations. Working together we support everyone who works with children and young people in England to support their speech, language and communication
Sharing books with your child early can help create a lifelong reader. Celebrating its 25th anniversary this year, Bookstart is here to guide you on your child's reading journey from 0-5 years.
I CAN is the children's communication charity.
I CAN's mission is that no child should be left out or left behind because of a difficulty speaking or understanding.
We target our work in the communities that need help most, working with local partners to deliver place-based solutions. National Literacy Trust Hubs create long-term change in communities where low levels of literacy are entrenched, intergenerational and seriously impacting on people's lives.
Talking Point gives parents/carers and practitioners the information they need to help children develop their speech, language and communication skills. If a child has difficulty with speaking, they may need help. With the right help, they can develop the skills they need.
The Bercow Report

Ten Years On
Bercow – Ten Years On analyses the many changes that have taken place over the past decade, their implications for children and their families and make recommendations for future action.
/